Infiniti NISSAN OEM Brake-Rear Pad Set D4060JL00J, Akebono
#8 on Diagram Only-Genuine OE Factory Original Item
| | |
| --- | --- |
| Brand/Part #: | Nissan 8063654-8NI-2318-D4060JL00J |
| Location: | Suwanee, Georgia, US |
| Ship To Locations: | US - FREE SHIPPING |
Infiniti NISSAN OEM Brake-Rear Pad Set D4060JL00J, Akebono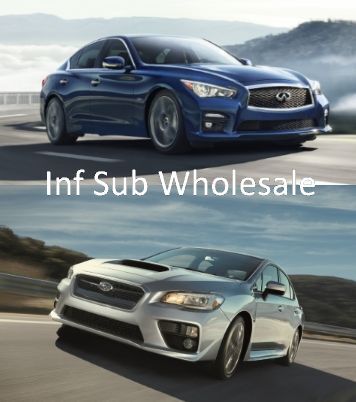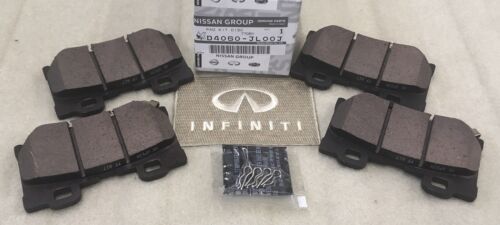 Seller & Payment Information
Seller name:
infsubwholesale
We Accept:

Customer Support
If you have questions about the product or your order please contact us via eBay Messages for assistance. Thank you
Business Hours: 
MON - FRI, 8 a.m. - 4 p.m.
Shipping & Handling
Shipping Service:
Please refer the shipping section
Shipping Cost:
Please refer the shipping section
Ship-to location:
Please refer the shipping section
Order Processing Time:
1 business day
About the Part
Part Number: D4060JL00J
PLEASE provide your VIN prior to or along with your order so we may verify the brake component applicable to your vehicle. Year, make, and model will not be enough needed to determine this information as some brake components are reliant on information determined by the VIN. Without this information, buyer assumes responsibility that the item they are purchasing is correct and applicable to their vehicle with a factory catalog and not the application chart in this listing. The part or sub-assembly you are purchasing is a Genuine OEM Factory Original part sold by an authorized Genuine OEM parts reseller. The part is not "like OEM", it is the Genuine OEM part sold by the vehicle manufacturer.
About the Brand
About the Seller
*PLEASE PROVIDE YOUR VIN AS A COMMENT BEFORE/WITH YOUR ORDER. Every effort is made to ensure information is accurate, however, Infiniti & Subaru vehicles are HEAVILY reliant on production dates, models, & trim levels, a detail can be missed. With your VIN, application will be verified with our factory-provided Infiniti/Nissan or Subaru catalogs for US market vehicles. All parts in our listings are for US models only! We cannot determine fitment on non-US model Infiniti, Nissan, or Subaru vehicles. BUYERS ARE ULTIMATELY RESPONSIBLE FOR VERIFYING THE PART PURCHASED IS CORRECT FOR THEIR VEHICLE WITH A FACTORY CATALOG IF NO VIN IS PROVIDED WITH THEIR ORDER.* *All orders ship as expeditiously as possible. We are a dealership with a constantly rotating inventory that serves local & online buyers. Our listings include a fulfillment time should we have to reorder a part in. Please be mindful of the fulfillment time as we may require the entire time estimated. If a need is urgent, please contact us first so we may give you an estimated time for us to ship your order. We do not reserve or order parts without the item first having been purchased.* *All orders of $200 will have a signature requirement to ensure the item is received.* *All parts come with a limited 12-month/12,000 mile warranty against manufacturer defect that will not cover improper installation or application. The warranty is only valid within the US. No warranty can be provided on any parts if purchased through eBay's GSP.* *By purchasing from us, acknowledgement this disclosure is implied.* *We work hard to only list parts that are still available through the brands we represent. There will be rare occasions where parts may be backordered or discontinued without any notice to us as a dealership. Should we experience any issues, we will contact you immediately.*
Return Policy
Return shipping paid by:
Buyer
Item must be returned within:
30 Days
Refund will be given as:
Money Back
Warranty
Warranty Type:
Manufacturer Warranty
Returns Accepted: Returns Accepted
Refund will be given as: Money Back
Item must be returned within: 30 Days
Return shipping will be paid by: Buyer
Restocking Fee: No
Genuine OEM: Yes
Warranty: 1 Year
Quantity: 1
SKU: 156:D4060-JL00J
Brand: Nissan
Manufacturer Part Number: D4060JL00J
Category 2: Brake Components
Fitment Type: Direct Replacement
Category 3: Brake Components
Superseded Part Number: D40604GH0A
Other Part Number: D40604GH0A
Item Name: Rear Pads
Part Ref# on Diagram: ONLY PART REFERENCE #8 ON THE DIAGRAM IS INCLUDED
Quantity Needed: 1
Category 1: Brakes
Placement on Vehicle: Rear
UPC: Does not apply
SKU: 8063654-8NI-2318-D4060JL00J
Infiniti NISSAN OEM Brake-Rear Pad Set D4060JL00J, Akebono fits on the following vehicles. This is for your reference only, please check your auto manual to make sure it fits.
YEAR
MAKE
MODEL
TRIM
NOTES
http://i.ebayimg.com/00/z/A8YAAOSwzRFadimk/$_57.JPG
2018
Infiniti
Q50 Red Sport Sedan 4-Door
Red Sport;Vendor-;; Qty needed per vehicle- 1 ;[Disc Brake Pad Set] RefNum: 7
2018
Infiniti
Q60
Red Sport Coupe 2-Door 3.0L 2997CC V6 GAS DOHC Turbocharged
Red Sport;Vendor-;; Qty needed per vehicle- 1 ;[Disc Brake Pad Set] RefNum: 7
2018
Infiniti
Q60
Sport Coupe 2-Door 3.0L 2997CC V6 GAS DOHC Turbocharged
Sport;Vendor-;; Qty needed per vehicle- 1 ;[Disc Brake Pad Set]
2018
Infiniti
Q70
3.7 Luxe Sedan 4-Door 3.7L 3696CC V6 GAS DOHC Naturally Aspirated
3.7;Exc.Sport Package; 20" Wheels; Vendor-;Sport Package; Vendor-;; Qty needed per vehicle- 1 ;[Disc Brake Pad Set]
2018
Infiniti
Q70
5.6 Luxe Sedan 4-Door 5.6L 5552CC V8 GAS DOHC Naturally Aspirated
5.6;Exc.Sport Package; 20" Wheels; Vendor-;Sport Package; Vendor-;; Qty needed per vehicle- 1 ;[Disc Brake Pad Set]
2018
Infiniti
Q70L
3.7 Luxe Sedan 4-Door 3.7L 3696CC V6 GAS DOHC Naturally Aspirated
3.7;Sport Package; Vendor-;; Qty needed per vehicle- 1 ;[Disc Brake Pad Set]
2018
Infiniti
Q70L
5.6 Luxe Sedan 4-Door 5.6L 5552CC V8 GAS DOHC Naturally Aspirated
5.6;Sport Package; Vendor-;; Qty needed per vehicle- 1 ;[Disc Brake Pad Set]
http://i.ebayimg.com/00/z/DGUAAOSwPh5ZMkXM/$_57.JPG
2018
Nissan
370Z Nismo Tech Coupe 2-Door
Nismo Tech;Vendor-;; Qty needed per vehicle- 1 ;[Disc Brake Pad Set] RefNum: 7
http://i.ebayimg.com/00/z/DGUAAOSwPh5ZMkXM/$_57.JPG
2018
Nissan
370Z Touring Sport Convertible 2-Door
Touring Sport;Vendor-;; Qty needed per vehicle- 1 ;[Disc Brake Pad Set] RefNum: 7
2018
Nissan
370Z
Touring Sport Coupe 2-Door 3.7L 3696CC V6 GAS DOHC Naturally Aspirated
Touring Sport;Vendor-;; Qty needed per vehicle- 1 ;[Disc Brake Pad Set]
http://i.ebayimg.com/00/z/A8YAAOSwzRFadimk/$_57.JPG
2017
Infiniti
Q50 Red Sport Sedan 4-Door
Red Sport;Vendor-;; Qty needed per vehicle- 1 ;[Disc Brake Pad Set] RefNum: 7
2017
Infiniti
Q50
Sport Sedan 4-Door 3.0L 2997CC V6 GAS DOHC Turbocharged
Sport;Vendor-;; Qty needed per vehicle- 1 ;[Disc Brake Pad Set]
http://i.ebayimg.com/00/z/A8YAAOSwzRFadimk/$_57.JPG
2017
Infiniti
Q50 Sport Sedan 4-Door
Sport;Vendor-;; Qty needed per vehicle- 1 ;[Disc Brake Pad Set] RefNum: 7
2017
Infiniti
Q60
Red Sport Coupe 2-Door 3.0L 2997CC V6 GAS DOHC Turbocharged
Red Sport;Vendor-;; Qty needed per vehicle- 1 ;[Disc Brake Pad Set] RefNum: 7
2017
Infiniti
Q60
Sport Coupe 2-Door 3.0L 2997CC V6 GAS DOHC Turbocharged
Sport;Vendor-;; Qty needed per vehicle- 1 ;[Disc Brake Pad Set] RefNum: 7
http://i.ebayimg.com/00/z/eKYAAOSwwzhZQ2xB/$_57.JPG
2017
Infiniti
Q70 3.7 Sedan 4-Door
3.7;Exc.Sport Package; 20" Wheels; Vendor-;Sport Package; Vendor-;; Qty needed per vehicle- 1 ;[Disc Brake Pad Set] RefNum: 10
http://i.ebayimg.com/00/z/eKYAAOSwwzhZQ2xB/$_57.JPG
2017
Infiniti
Q70 5.6 Sedan 4-Door
5.6;Exc.Sport Package; 20" Wheels; Vendor-;Sport Package; Vendor-;; Qty needed per vehicle- 1 ;[Disc Brake Pad Set] RefNum: 10
http://i.ebayimg.com/00/z/0KoAAOSwcB5ZM6yX/$_57.JPG
2017
Infiniti
Q70L 3.7 Sedan 4-Door
3.7;Sport Package; Vendor-;; Qty needed per vehicle- 1 ;[Disc Brake Pad Set] RefNum: 8
http://i.ebayimg.com/00/z/0KoAAOSwcB5ZM6yX/$_57.JPG
2017
Infiniti
Q70L 5.6 Sedan 4-Door
5.6;Sport Package; Vendor-;; Qty needed per vehicle- 1 ;[Disc Brake Pad Set] RefNum: 8
http://i.ebayimg.com/00/z/DGUAAOSwPh5ZMkXM/$_57.JPG
2017
Nissan
370Z Nismo Coupe 2-Door
Nismo;Vendor-;; Qty needed per vehicle- 1 ;[Disc Brake Pad Set] RefNum: 7
http://i.ebayimg.com/00/z/DGUAAOSwPh5ZMkXM/$_57.JPG
2017
Nissan
370Z Nismo Tech Coupe 2-Door
Nismo Tech;Vendor-;; Qty needed per vehicle- 1 ;[Disc Brake Pad Set] RefNum: 7
http://i.ebayimg.com/00/z/DGUAAOSwPh5ZMkXM/$_57.JPG
2017
Nissan
370Z Sport Coupe 2-Door
Sport;Vendor-;; Qty needed per vehicle- 1 ;[Disc Brake Pad Set] RefNum: 7
http://i.ebayimg.com/00/z/DGUAAOSwPh5ZMkXM/$_57.JPG
2017
Nissan
370Z Sport Tech Coupe 2-Door
Sport Tech;Vendor-;; Qty needed per vehicle- 1 ;[Disc Brake Pad Set] RefNum: 7
http://i.ebayimg.com/00/z/DGUAAOSwPh5ZMkXM/$_57.JPG
2017
Nissan
370Z Touring Sport Convertible 2-Door
Touring Sport;Vendor-;; Qty needed per vehicle- 1 ;[Disc Brake Pad Set] RefNum: 7
http://i.ebayimg.com/00/z/A8YAAOSwzRFadimk/$_57.JPG
2016
Infiniti
Q50 Red Sport Sedan 4-Door
Red Sport;Vendor-;; Qty needed per vehicle- 1 ;[Disc Brake Pad Set] RefNum: 7
http://i.ebayimg.com/00/z/A8YAAOSwzRFadimk/$_57.JPG
2016
Infiniti
Q50 Sport Sedan 4-Door
Sport;Vendor-;; Qty needed per vehicle- 1 ;[Disc Brake Pad Set] RefNum: 7
http://i.ebayimg.com/00/z/eKYAAOSwwzhZQ2xB/$_57.JPG
2016
Infiniti
Q70 3.7 Sedan 4-Door
3.7;Exc.Sport Package; 20" Wheels; Vendor-;Sport Package; Vendor-;; Qty needed per vehicle- 1 ;[Disc Brake Pad Set] RefNum: 10
http://i.ebayimg.com/00/z/eKYAAOSwwzhZQ2xB/$_57.JPG
2016
Infiniti
Q70 5.6 Sedan 4-Door
5.6;Exc.Sport Package; 20" Wheels; Vendor-;Sport Package; Vendor-;; Qty needed per vehicle- 1 ;[Disc Brake Pad Set] RefNum: 10
http://i.ebayimg.com/00/z/0KoAAOSwcB5ZM6yX/$_57.JPG
2016
Infiniti
Q70L 3.7 Sedan 4-Door
3.7;Sport Package; Vendor-;; Qty needed per vehicle- 1 ;[Disc Brake Pad Set] RefNum: 8
http://i.ebayimg.com/00/z/0KoAAOSwcB5ZM6yX/$_57.JPG
2016
Infiniti
Q70L 5.6 Sedan 4-Door
5.6;Sport Package; Vendor-;; Qty needed per vehicle- 1 ;[Disc Brake Pad Set] RefNum: 8
http://i.ebayimg.com/00/z/DGUAAOSwPh5ZMkXM/$_57.JPG
2016
Nissan
370Z Nismo Coupe 2-Door
Nismo;Vendor-;; Qty needed per vehicle- 1 ;[Disc Brake Pad Set] RefNum: 7
http://i.ebayimg.com/00/z/DGUAAOSwPh5ZMkXM/$_57.JPG
2016
Nissan
370Z Nismo Tech Coupe 2-Door
Nismo Tech;Vendor-;; Qty needed per vehicle- 1 ;[Disc Brake Pad Set] RefNum: 7
http://i.ebayimg.com/00/z/DGUAAOSwPh5ZMkXM/$_57.JPG
2016
Nissan
370Z Sport Coupe 2-Door
Sport;Vendor-;; Qty needed per vehicle- 1 ;[Disc Brake Pad Set] RefNum: 7
http://i.ebayimg.com/00/z/DGUAAOSwPh5ZMkXM/$_57.JPG
2016
Nissan
370Z Sport Tech Coupe 2-Door
Sport Tech;Vendor-;; Qty needed per vehicle- 1 ;[Disc Brake Pad Set] RefNum: 7
http://i.ebayimg.com/00/z/DGUAAOSwPh5ZMkXM/$_57.JPG
2016
Nissan
370Z Touring Sport Convertible 2-Door
Touring Sport;Vendor-;; Qty needed per vehicle- 1 ;[Disc Brake Pad Set] RefNum: 7
http://i.ebayimg.com/00/z/A8YAAOSwzRFadimk/$_57.JPG
2015
Infiniti
Q50 Hybrid Sport Sedan 4-Door
Hybrid Sport;Vendor-;; Qty needed per vehicle- 1 ;[Disc Brake Pad Set] RefNum: 7
http://i.ebayimg.com/00/z/A8YAAOSwzRFadimk/$_57.JPG
2015
Infiniti
Q50 Sport Sedan 4-Door
Sport;Vendor-;; Qty needed per vehicle- 1 ;[Disc Brake Pad Set] RefNum: 7
http://i.ebayimg.com/00/z/fv4AAOSw~rpZREHJ/$_57.JPG
2015
Infiniti
Q60 Base Convertible 2-Door
Base;Sport Package; Vendor-;; Qty needed per vehicle- 1 ;[Disc Brake Pad Set] RefNum: 8
http://i.ebayimg.com/00/z/fv4AAOSw~rpZREHJ/$_57.JPG
2015
Infiniti
Q60 Base Coupe 2-Door
Base;Sport Package; Vendor-;; Qty needed per vehicle- 1 ;[Disc Brake Pad Set] RefNum: 8
http://i.ebayimg.com/00/z/fv4AAOSw~rpZREHJ/$_57.JPG
2015
Infiniti
Q60 IPL Convertible 2-Door
IPL;Vendor-;; Qty needed per vehicle- 1 ;[Disc Brake Pad Set] RefNum: 8
http://i.ebayimg.com/00/z/fv4AAOSw~rpZREHJ/$_57.JPG
2015
Infiniti
Q60 Journey Coupe 2-Door
Journey;Sport Package; Vendor-;; Qty needed per vehicle- 1 ;[Disc Brake Pad Set] RefNum: 8
http://i.ebayimg.com/00/z/fv4AAOSw~rpZREHJ/$_57.JPG
2015
Infiniti
Q60 S Convertible 2-Door
S;Vendor-;; Qty needed per vehicle- 1 ;[Disc Brake Pad Set] RefNum: 8
http://i.ebayimg.com/00/z/fv4AAOSw~rpZREHJ/$_57.JPG
2015
Infiniti
Q60 S Coupe 2-Door
S;Vendor-;; Qty needed per vehicle- 1 ;[Disc Brake Pad Set] RefNum: 8
http://i.ebayimg.com/00/z/fv4AAOSw~rpZREHJ/$_57.JPG
2015
Infiniti
Q60 S Limited Coupe 2-Door
S Limited;Vendor-;; Qty needed per vehicle- 1 ;[Disc Brake Pad Set] RefNum: 8
http://i.ebayimg.com/00/z/eKYAAOSwwzhZQ2xB/$_57.JPG
2015
Infiniti
Q70 3.7 Sedan 4-Door
3.7;Exc.Sport Package; 20" Wheels; Vendor-;Sport Package; Vendor-;; Qty needed per vehicle- 1 ;[Disc Brake Pad Set] RefNum: 10
http://i.ebayimg.com/00/z/eKYAAOSwwzhZQ2xB/$_57.JPG
2015
Infiniti
Q70 5.6 Sedan 4-Door
5.6;Exc.Sport Package; 20" Wheels; Vendor-;Sport Package; Vendor-;; Qty needed per vehicle- 1 ;[Disc Brake Pad Set] RefNum: 10
http://i.ebayimg.com/00/z/0KoAAOSwcB5ZM6yX/$_57.JPG
2015
Infiniti
Q70L 3.7 Sedan 4-Door
3.7;Sport Package; Vendor-;; Qty needed per vehicle- 1 ;[Disc Brake Pad Set] RefNum: 8
http://i.ebayimg.com/00/z/0KoAAOSwcB5ZM6yX/$_57.JPG
2015
Infiniti
Q70L 5.6 Sedan 4-Door
5.6;Sport Package; Vendor-;; Qty needed per vehicle- 1 ;[Disc Brake Pad Set] RefNum: 8
http://i.ebayimg.com/00/z/DGUAAOSwPh5ZMkXM/$_57.JPG
2015
Nissan
370Z Nismo Coupe 2-Door
Nismo;Vendor-;; Qty needed per vehicle- 1 ;[Disc Brake Pad Set] RefNum: 7
http://i.ebayimg.com/00/z/DGUAAOSwPh5ZMkXM/$_57.JPG
2015
Nissan
370Z Nismo Tech Coupe 2-Door
Nismo Tech;Vendor-;; Qty needed per vehicle- 1 ;[Disc Brake Pad Set] RefNum: 7
http://i.ebayimg.com/00/z/DGUAAOSwPh5ZMkXM/$_57.JPG
2015
Nissan
370Z Sport Coupe 2-Door
Sport;Vendor-;; Qty needed per vehicle- 1 ;[Disc Brake Pad Set] RefNum: 7
http://i.ebayimg.com/00/z/DGUAAOSwPh5ZMkXM/$_57.JPG
2015
Nissan
370Z Sport Tech Coupe 2-Door
Sport Tech;Vendor-;; Qty needed per vehicle- 1 ;[Disc Brake Pad Set] RefNum: 7
http://i.ebayimg.com/00/z/DGUAAOSwPh5ZMkXM/$_57.JPG
2015
Nissan
370Z Touring Sport Convertible 2-Door
Touring Sport;Vendor-;; Qty needed per vehicle- 1 ;[Disc Brake Pad Set] RefNum: 7
http://i.ebayimg.com/00/z/A8YAAOSwzRFadimk/$_57.JPG
2014
Infiniti
Q50 Hybrid Sport Sedan 4-Door
Hybrid Sport;Vendor-;; Qty needed per vehicle- 1 ;[Disc Brake Pad Set] RefNum: 7
http://i.ebayimg.com/00/z/A8YAAOSwzRFadimk/$_57.JPG
2014
Infiniti
Q50 Sport Sedan 4-Door
Sport;Vendor-;; Qty needed per vehicle- 1 ;[Disc Brake Pad Set] RefNum: 7
http://i.ebayimg.com/00/z/fv4AAOSw~rpZREHJ/$_57.JPG
2014
Infiniti
Q60 Base Convertible 2-Door
Base;Sport Package; Vendor-;; Qty needed per vehicle- 1 ;[Disc Brake Pad Set] RefNum: 8
http://i.ebayimg.com/00/z/fv4AAOSw~rpZREHJ/$_57.JPG
2014
Infiniti
Q60 Base Coupe 2-Door
Base;Sport Package; Vendor-;; Qty needed per vehicle- 1 ;[Disc Brake Pad Set] RefNum: 8
http://i.ebayimg.com/00/z/fv4AAOSw~rpZREHJ/$_57.JPG
2014
Infiniti
Q60 IPL Convertible 2-Door
IPL;Vendor-;; Qty needed per vehicle- 1 ;[Disc Brake Pad Set] RefNum: 8
http://i.ebayimg.com/00/z/fv4AAOSw~rpZREHJ/$_57.JPG
2014
Infiniti
Q60 IPL Coupe 2-Door
IPL;Vendor-;; Qty needed per vehicle- 1 ;[Disc Brake Pad Set] RefNum: 8
http://i.ebayimg.com/00/z/fv4AAOSw~rpZREHJ/$_57.JPG
2014
Infiniti
Q60 Journey Coupe 2-Door
Journey;Sport Package; Vendor-;; Qty needed per vehicle- 1 ;[Disc Brake Pad Set] RefNum: 8
http://i.ebayimg.com/00/z/fv4AAOSw~rpZREHJ/$_57.JPG
2014
Infiniti
Q60 S Convertible 2-Door
S, Convertible;Vendor-;; Qty needed per vehicle- 1 ;[Disc Brake Pad Set] RefNum: 8
http://i.ebayimg.com/00/z/fv4AAOSw~rpZREHJ/$_57.JPG
2014
Infiniti
Q60 S Coupe 2-Door
S, Convertible;Vendor-;; Qty needed per vehicle- 1 ;[Disc Brake Pad Set] RefNum: 8
2014
Infiniti
Q70
Perfection Sedan 4-Door 5.6L 5552CC V8 GAS DOHC Naturally Aspirated
Perfection;Sport Package; Vendor-;; Qty needed per vehicle- 1 ;[Disc Brake Pad Set]
2014
Infiniti
Q70
Seduction Sedan 4-Door 3.7L 3696CC 226Cu. In. V6 GAS DOHC Naturally Aspirated
Seduction;Sport Package; Vendor-;; Qty needed per vehicle- 1 ;[Disc Brake Pad Set]
http://i.ebayimg.com/00/z/D8EAAOSwceNZQwaB/$_57.JPG
2014
Infiniti
QX70 Base Sport Utility 4-Door
Base;Exc.Sport Package; Vendor-;; Qty needed per vehicle- 1 ;[Disc Brake Pad Set] RefNum: 7
http://i.ebayimg.com/00/z/DGUAAOSwPh5ZMkXM/$_57.JPG
2014
Nissan
370Z Base Convertible 2-Door
Base;Sport Package; Vendor-;; Qty needed per vehicle- 1 ;[Disc Brake Pad Set] RefNum: 7
http://i.ebayimg.com/00/z/DGUAAOSwPh5ZMkXM/$_57.JPG
2014
Nissan
370Z Base Coupe 2-Door
Base;Sport Package; Vendor-;; Qty needed per vehicle- 1 ;[Disc Brake Pad Set] RefNum: 7
http://i.ebayimg.com/00/z/DGUAAOSwPh5ZMkXM/$_57.JPG
2014
Nissan
370Z Nismo Coupe 2-Door
Nismo;Vendor-;; Qty needed per vehicle- 1 ;[Disc Brake Pad Set] RefNum: 7
http://i.ebayimg.com/00/z/DGUAAOSwPh5ZMkXM/$_57.JPG
2014
Nissan
370Z Touring Convertible 2-Door
Touring;Sport Package; Vendor-;; Qty needed per vehicle- 1 ;[Disc Brake Pad Set] RefNum: 7
http://i.ebayimg.com/00/z/DGUAAOSwPh5ZMkXM/$_57.JPG
2014
Nissan
370Z Touring Coupe 2-Door
Touring;Sport Package; Vendor-;; Qty needed per vehicle- 1 ;[Disc Brake Pad Set] RefNum: 7
http://i.ebayimg.com/00/z/D8EAAOSwceNZQwaB/$_57.JPG
2013
Infiniti
FX50 Base Sport Utility 4-Door
Base;Exc.Sport Package; Vendor-;; Qty needed per vehicle- 1 ;[Disc Brake Pad Set] RefNum: 7
http://i.ebayimg.com/00/z/fv4AAOSw~rpZREHJ/$_57.JPG
2013
Infiniti
G37 Base Convertible 2-Door
Base;Brembo Brakes; Vendor-;; Qty needed per vehicle- 1 ;[Disc Brake Pad Set] RefNum: 8
2013
Infiniti
G37
Base Coupe 2-Door 3.7L 3696CC 226Cu. In. V6 GAS DOHC Naturally Aspirated
Base;Brembo Brakes; Vendor-;; Qty needed per vehicle- 1 ;[Disc Brake Pad Set]
2013
Infiniti
G37
Base Sedan 4-Door 3.7L 3696CC 226Cu. In. V6 GAS DOHC Naturally Aspirated
Base;Brembo Brakes; Vendor-;; Qty needed per vehicle- 1 ;[Disc Brake Pad Set]
http://i.ebayimg.com/00/z/fv4AAOSw~rpZREHJ/$_57.JPG
2013
Infiniti
G37 IPL Convertible 2-Door
IPL;Vendor-;; Qty needed per vehicle- 1 ;[Disc Brake Pad Set] RefNum: 8
http://i.ebayimg.com/00/z/fv4AAOSw~rpZREHJ/$_57.JPG
2013
Infiniti
G37 IPL Coupe 2-Door
IPL;Vendor-;; Qty needed per vehicle- 1 ;[Disc Brake Pad Set] RefNum: 8
http://i.ebayimg.com/00/z/fv4AAOSw~rpZREHJ/$_57.JPG
2013
Infiniti
G37 Journey Coupe 2-Door
Journey;Brembo Brakes; Vendor-;; Qty needed per vehicle- 1 ;[Disc Brake Pad Set] RefNum: 8
http://i.ebayimg.com/00/z/fv4AAOSw~rpZREHJ/$_57.JPG
2013
Infiniti
G37 Journey Sedan 4-Door
Journey;Brembo Brakes; Vendor-;; Qty needed per vehicle- 1 ;[Disc Brake Pad Set] RefNum: 8
http://i.ebayimg.com/00/z/fv4AAOSw~rpZREHJ/$_57.JPG
2013
Infiniti
G37 Sport Convertible 2-Door
Sport;Vendor-;; Qty needed per vehicle- 1 ;[Disc Brake Pad Set] RefNum: 8
http://i.ebayimg.com/00/z/fv4AAOSw~rpZREHJ/$_57.JPG
2013
Infiniti
G37 Sport Coupe 2-Door
Sport;Vendor-;; Qty needed per vehicle- 1 ;[Disc Brake Pad Set] RefNum: 8
http://i.ebayimg.com/00/z/fv4AAOSw~rpZREHJ/$_57.JPG
2013
Infiniti
G37 Sport Sedan 4-Door
Sport;Vendor-;; Qty needed per vehicle- 1 ;[Disc Brake Pad Set] RefNum: 8
http://i.ebayimg.com/00/z/fv4AAOSw~rpZREHJ/$_57.JPG
2013
Infiniti
G37 X Coupe 2-Door
X;Brembo Brakes; Vendor-;; Qty needed per vehicle- 1 ;[Disc Brake Pad Set] RefNum: 8
http://i.ebayimg.com/00/z/fv4AAOSw~rpZREHJ/$_57.JPG
2013
Infiniti
G37 X Sedan 4-Door
X;Brembo Brakes; Vendor-;; Qty needed per vehicle- 1 ;[Disc Brake Pad Set] RefNum: 8
http://i.ebayimg.com/00/z/eKYAAOSwwzhZQ2xB/$_57.JPG
2013
Infiniti
M37 Base Sedan 4-Door
Base;Sport Package; Vendor-;; Qty needed per vehicle- 1 ;[Disc Brake Pad Set] RefNum: 10
http://i.ebayimg.com/00/z/eKYAAOSwwzhZQ2xB/$_57.JPG
2013
Infiniti
M37 X Sedan 4-Door
X;Sport Package; Vendor-;; Qty needed per vehicle- 1 ;[Disc Brake Pad Set] RefNum: 10
http://i.ebayimg.com/00/z/eKYAAOSwwzhZQ2xB/$_57.JPG
2013
Infiniti
M56 Base Sedan 4-Door
Base;Sport Package; Vendor-;; Qty needed per vehicle- 1 ;[Disc Brake Pad Set] RefNum: 10
http://i.ebayimg.com/00/z/eKYAAOSwwzhZQ2xB/$_57.JPG
2013
Infiniti
M56 X Sedan 4-Door
X;Sport Package; Vendor-;; Qty needed per vehicle- 1 ;[Disc Brake Pad Set] RefNum: 10
http://i.ebayimg.com/00/z/DGUAAOSwPh5ZMkXM/$_57.JPG
2013
Nissan
370Z Base Convertible 2-Door
Base;Sport Package; Vendor-;; Qty needed per vehicle- 1 ;[Disc Brake Pad Set] RefNum: 7
http://i.ebayimg.com/00/z/DGUAAOSwPh5ZMkXM/$_57.JPG
2013
Nissan
370Z Base Coupe 2-Door
Base;Sport Package; Vendor-;; Qty needed per vehicle- 1 ;[Disc Brake Pad Set] RefNum: 7
http://i.ebayimg.com/00/z/DGUAAOSwPh5ZMkXM/$_57.JPG
2013
Nissan
370Z Nismo Coupe 2-Door
Nismo;Vendor-;; Qty needed per vehicle- 1 ;[Disc Brake Pad Set] RefNum: 7
http://i.ebayimg.com/00/z/DGUAAOSwPh5ZMkXM/$_57.JPG
2013
Nissan
370Z Touring Convertible 2-Door
Touring;Sport Package; Vendor-;; Qty needed per vehicle- 1 ;[Disc Brake Pad Set] RefNum: 7
http://i.ebayimg.com/00/z/DGUAAOSwPh5ZMkXM/$_57.JPG
2013
Nissan
370Z Touring Coupe 2-Door
Touring;Sport Package; Vendor-;; Qty needed per vehicle- 1 ;[Disc Brake Pad Set] RefNum: 7
http://i.ebayimg.com/00/z/D8EAAOSwceNZQwaB/$_57.JPG
2012
Infiniti
FX50 Base Sport Utility 4-Door
Base;Exc.Sport Package; Vendor-;; Qty needed per vehicle- 1 ;[Disc Brake Pad Set] RefNum: 7
http://i.ebayimg.com/00/z/fv4AAOSw~rpZREHJ/$_57.JPG
2012
Infiniti
G37 Base Convertible 2-Door
Base;Brembo Brakes; Vendor-;; Qty needed per vehicle- 1 ;[Disc Brake Pad Set] RefNum: 8
http://i.ebayimg.com/00/z/fv4AAOSw~rpZREHJ/$_57.JPG
2012
Infiniti
G37 Base Coupe 2-Door
Base;Brembo Brakes; Vendor-;; Qty needed per vehicle- 1 ;[Disc Brake Pad Set] RefNum: 8
2012
Infiniti
G37
Base Sedan 4-Door 3.7L 3696CC 226Cu. In. V6 GAS DOHC Naturally Aspirated
Base;Brembo Brakes; Vendor-;; Qty needed per vehicle- 1 ;[Disc Brake Pad Set]
http://i.ebayimg.com/00/z/fv4AAOSw~rpZREHJ/$_57.JPG
2012
Infiniti
G37 IPL Coupe 2-Door
IPL;Vendor-;; Qty needed per vehicle- 1 ;[Disc Brake Pad Set] RefNum: 8
http://i.ebayimg.com/00/z/fv4AAOSw~rpZREHJ/$_57.JPG
2012
Infiniti
G37 Journey Coupe 2-Door
Journey;Brembo Brakes; Vendor-;; Qty needed per vehicle- 1 ;[Disc Brake Pad Set] RefNum: 8
http://i.ebayimg.com/00/z/fv4AAOSw~rpZREHJ/$_57.JPG
2012
Infiniti
G37 Journey Sedan 4-Door
Journey;Brembo Brakes; Vendor-;; Qty needed per vehicle- 1 ;[Disc Brake Pad Set] RefNum: 8
http://i.ebayimg.com/00/z/fv4AAOSw~rpZREHJ/$_57.JPG
2012
Infiniti
G37 Sport Convertible 2-Door
Sport;Vendor-;; Qty needed per vehicle- 1 ;[Disc Brake Pad Set] RefNum: 8
http://i.ebayimg.com/00/z/fv4AAOSw~rpZREHJ/$_57.JPG
2012
Infiniti
G37 Sport Coupe 2-Door
Sport;Vendor-;; Qty needed per vehicle- 1 ;[Disc Brake Pad Set] RefNum: 8
http://i.ebayimg.com/00/z/fv4AAOSw~rpZREHJ/$_57.JPG
2012
Infiniti
G37 Sport Sedan 4-Door
Sport;Vendor-;; Qty needed per vehicle- 1 ;[Disc Brake Pad Set] RefNum: 8
http://i.ebayimg.com/00/z/fv4AAOSw~rpZREHJ/$_57.JPG
2012
Infiniti
G37 X Coupe 2-Door
X;Brembo Brakes; Vendor-;; Qty needed per vehicle- 1 ;[Disc Brake Pad Set] RefNum: 8
http://i.ebayimg.com/00/z/fv4AAOSw~rpZREHJ/$_57.JPG
2012
Infiniti
G37 X Sedan 4-Door
X;Brembo Brakes; Vendor-;; Qty needed per vehicle- 1 ;[Disc Brake Pad Set] RefNum: 8
http://i.ebayimg.com/00/z/eKYAAOSwwzhZQ2xB/$_57.JPG
2012
Infiniti
M37 Base Sedan 4-Door
Base;Sport Package; Vendor-;; Qty needed per vehicle- 1 ;[Disc Brake Pad Set] RefNum: 10
http://i.ebayimg.com/00/z/eKYAAOSwwzhZQ2xB/$_57.JPG
2012
Infiniti
M56 Base Sedan 4-Door
Base;Sport Package; Vendor-;; Qty needed per vehicle- 1 ;[Disc Brake Pad Set] RefNum: 10
http://i.ebayimg.com/00/z/DGUAAOSwPh5ZMkXM/$_57.JPG
2012
Nissan
370Z Base Convertible 2-Door
Base;Sport Package; Vendor-;; Qty needed per vehicle- 1 ;[Disc Brake Pad Set] RefNum: 7
http://i.ebayimg.com/00/z/DGUAAOSwPh5ZMkXM/$_57.JPG
2012
Nissan
370Z Base Coupe 2-Door
Base;Sport Package; Vendor-;; Qty needed per vehicle- 1 ;[Disc Brake Pad Set] RefNum: 7
http://i.ebayimg.com/00/z/DGUAAOSwPh5ZMkXM/$_57.JPG
2012
Nissan
370Z Nismo Coupe 2-Door
Nismo;Vendor-;; Qty needed per vehicle- 1 ;[Disc Brake Pad Set] RefNum: 7
http://i.ebayimg.com/00/z/DGUAAOSwPh5ZMkXM/$_57.JPG
2012
Nissan
370Z Touring Convertible 2-Door
Touring;Sport Package; Vendor-;; Qty needed per vehicle- 1 ;[Disc Brake Pad Set] RefNum: 7
http://i.ebayimg.com/00/z/DGUAAOSwPh5ZMkXM/$_57.JPG
2012
Nissan
370Z Touring Coupe 2-Door
Touring;Sport Package; Vendor-;; Qty needed per vehicle- 1 ;[Disc Brake Pad Set] RefNum: 7
http://i.ebayimg.com/00/z/D8EAAOSwceNZQwaB/$_57.JPG
2011
Infiniti
FX50 Base Sport Utility 4-Door
Base;Exc.Sport Package; Vendor-;; Qty needed per vehicle- 1 ;[Disc Brake Pad Set] RefNum: 7
http://i.ebayimg.com/00/z/fv4AAOSw~rpZREHJ/$_57.JPG
2011
Infiniti
G37 Base Convertible 2-Door
Base;Brembo Brakes; Vendor-;; Qty needed per vehicle- 1 ;[Disc Brake Pad Set] RefNum: 8
http://i.ebayimg.com/00/z/fv4AAOSw~rpZREHJ/$_57.JPG
2011
Infiniti
G37 Base Coupe 2-Door
Base;Brembo Brakes; Vendor-;; Qty needed per vehicle- 1 ;[Disc Brake Pad Set] RefNum: 8
http://i.ebayimg.com/00/z/fv4AAOSw~rpZREHJ/$_57.JPG
2011
Infiniti
G37 Base Sedan 4-Door
Base;Brembo Brakes; Vendor-;; Qty needed per vehicle- 1 ;[Disc Brake Pad Set] RefNum: 8
http://i.ebayimg.com/00/z/fv4AAOSw~rpZREHJ/$_57.JPG
2011
Infiniti
G37 IPL Coupe 2-Door
IPL;Vendor-;; Qty needed per vehicle- 1 ;[Disc Brake Pad Set] RefNum: 8
http://i.ebayimg.com/00/z/fv4AAOSw~rpZREHJ/$_57.JPG
2011
Infiniti
G37 Journey Coupe 2-Door
Journey;Brembo Brakes; Vendor-;; Qty needed per vehicle- 1 ;[Disc Brake Pad Set] RefNum: 8
http://i.ebayimg.com/00/z/fv4AAOSw~rpZREHJ/$_57.JPG
2011
Infiniti
G37 Journey Sedan 4-Door
Journey;Brembo Brakes; Vendor-;; Qty needed per vehicle- 1 ;[Disc Brake Pad Set] RefNum: 8
http://i.ebayimg.com/00/z/fv4AAOSw~rpZREHJ/$_57.JPG
2011
Infiniti
G37 Sport Convertible 2-Door
Sport;Vendor-;; Qty needed per vehicle- 1 ;[Disc Brake Pad Set] RefNum: 8
http://i.ebayimg.com/00/z/fv4AAOSw~rpZREHJ/$_57.JPG
2011
Infiniti
G37 Sport Coupe 2-Door
Sport;Vendor-;; Qty needed per vehicle- 1 ;[Disc Brake Pad Set] RefNum: 8
http://i.ebayimg.com/00/z/fv4AAOSw~rpZREHJ/$_57.JPG
2011
Infiniti
G37 Sport Sedan 4-Door
Sport;Vendor-;; Qty needed per vehicle- 1 ;[Disc Brake Pad Set] RefNum: 8
http://i.ebayimg.com/00/z/fv4AAOSw~rpZREHJ/$_57.JPG
2011
Infiniti
G37 X Coupe 2-Door
X;Brembo Brakes; Vendor-;; Qty needed per vehicle- 1 ;[Disc Brake Pad Set] RefNum: 8
http://i.ebayimg.com/00/z/fv4AAOSw~rpZREHJ/$_57.JPG
2011
Infiniti
G37 X Sedan 4-Door
X;Brembo Brakes; Vendor-;; Qty needed per vehicle- 1 ;[Disc Brake Pad Set] RefNum: 8
http://i.ebayimg.com/00/z/eKYAAOSwwzhZQ2xB/$_57.JPG
2011
Infiniti
M37 Base Sedan 4-Door
Base;Sport Package; Vendor-;; Qty needed per vehicle- 1 ;[Disc Brake Pad Set] RefNum: 10
http://i.ebayimg.com/00/z/eKYAAOSwwzhZQ2xB/$_57.JPG
2011
Infiniti
M56 Base Sedan 4-Door
Base;Sport Package; Vendor-;; Qty needed per vehicle- 1 ;[Disc Brake Pad Set] RefNum: 10
http://i.ebayimg.com/00/z/DGUAAOSwPh5ZMkXM/$_57.JPG
2011
Nissan
370Z Base Convertible 2-Door
Base;Sport Package; Vendor-;; Qty needed per vehicle- 1 ;[Disc Brake Pad Set] RefNum: 7
http://i.ebayimg.com/00/z/DGUAAOSwPh5ZMkXM/$_57.JPG
2011
Nissan
370Z Base Coupe 2-Door
Base;Sport Package; Vendor-;; Qty needed per vehicle- 1 ;[Disc Brake Pad Set] RefNum: 7
http://i.ebayimg.com/00/z/DGUAAOSwPh5ZMkXM/$_57.JPG
2011
Nissan
370Z Nismo Coupe 2-Door
Nismo;Vendor-;; Qty needed per vehicle- 1 ;[Disc Brake Pad Set] RefNum: 7
http://i.ebayimg.com/00/z/DGUAAOSwPh5ZMkXM/$_57.JPG
2011
Nissan
370Z Touring Convertible 2-Door
Touring;Sport Package; Vendor-;; Qty needed per vehicle- 1 ;[Disc Brake Pad Set] RefNum: 7
http://i.ebayimg.com/00/z/DGUAAOSwPh5ZMkXM/$_57.JPG
2011
Nissan
370Z Touring Coupe 2-Door
Touring;Sport Package; Vendor-;; Qty needed per vehicle- 1 ;[Disc Brake Pad Set] RefNum: 7
http://i.ebayimg.com/00/z/DGUAAOSwPh5ZMkXM/$_57.JPG
2010
Nissan
370Z Nismo Coupe 2-Door
Nismo;Vendor-;; Qty needed per vehicle- 1 ;[Disc Brake Pad Set] RefNum: 7