Front Ceramic Brake Pad Set Fits Jaguar S-Type Vanden Plas XF XJ8 XK 355013621
| | |
| --- | --- |
| Brand/Part #: | LO-STAR LSPD1241 |
| Location: | Houston, Texas, US |
| Ship To Locations: | US - FREE SHIPPING |
STORE HOME

HOT LISTING

ABOUT US

ADD TO FAVS

FEEDBACK

CONTACT US
STORE HOME

HOT LISTING

ABOUT US

ADD TO FAVS

FEEDBACK

CONTACT US
100% SATISFACTION

GUARANTEED

FREE DELIVERY

TO 48 CONTINENTAL
U.S. STATES

SAFE & SECURED

TRANSACTIONS
Store
Hub Bearings

Timing Chain Kits

Tensioners

Clutch Hydraulic Lines

Clutch Slave Cylinders

Clutch Master & Slave Cylinder

Clutch Master Cylinders

Oil Pump

Clutch Release Bearing

Clutch Kit

Water Tank

Tube

Cap

More

>

Oil Pan

Window Regulator

Vacuum pump

Gasket Set

Brake Master Cylinder

Oil Filter

Water Pump

PCV Valve & Hose Set

Blower Motor

Radiator Fan Assembly

Brake Dust Shield

Air Suspension

Power Steering Pump

Windshield Washer Pump

Headlight Water Pump

Fan Clutch

Throttle Body

More

>

Caliper

Suspension Air Spring Bag

Junction Block

Oil Separator

Link Kit

Electromagneti​c Valve

Line Pipes

Brake Disc Pads

Radiator

Fluid Heater

Control Arm

Intake Manifold

Fuel Pump

Cylinder Head

Diesel Emissions Fluid Pump

CV Joint Axle

Condenser

View more
100%
SATISFACTION GUARANTEED
Front Ceramic Brake Pad Set Fits Jaguar S-Type Vanden Plas XF XJ8 XK 355013621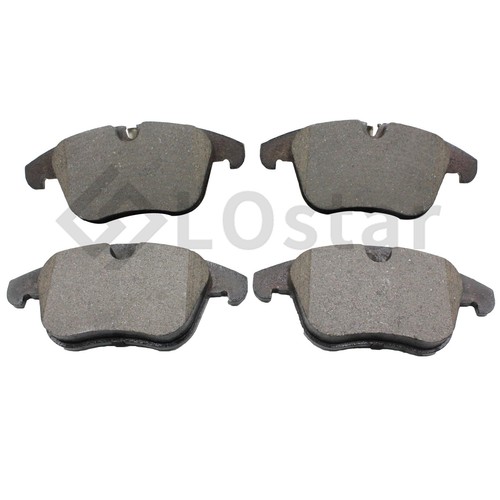 DESCRIPTION
Compatibility:
Jaguar XJ8Front2005 - 2009
Jaguar Vanden PlasFront, From: Chassis G497012005 - 2009
Jaguar S-TypeFront2006
Jaguar XKFront2007 - 2009
Jaguar S-TypeFront2007 - 2008
Jaguar XF4.2 V8 GAS FI 4196cc | Naturally Aspirated, Front2009 - 2010
Jaguar XFFront2013 - 2014
Jaguar XF2.0 L4 GAS FI 1999cc, Front2015
WARRANTY
Warranty Coverage Information
Month
1
2
3
4
5
6
7
8
9
10
11
12
13
Coverge

~

~

~

~

~

~

~

~

~

~
Rate

100%

refund

or

reploc

ement

100%

refund

or

reploc

ement

100%

refund

or

reploc

ement

90%

refund

80%

refund

70%

refund

0%

refund

0%

refund

0%

refund

0%

refund

0%

refund

0%

refund

0%

refund
SHIPPING
All orders placed before 3pm (Central Time) will be shipped the same business day.
Orders made after 3pm (Central Time) will be shippedthe following business day.
All orders in the continental 48 States will be shipped FREE of charge via FedEx or USPS.
Orders outside the continental 48 States (Alaska,Hawaii, Puerto Rico, US territories, or International) will be required to pay a surcharge for shipping.
PAYMENT
Paypal, Visa, and MasterCard are the accepted forms of payment.
Please use the eBay checkout system when paying for your order.
Immediate payment is required for all orders.
RETURNS
Customer must contact Lone Star Auto Parts within 30 days of receiving shipment for approval of any return or exchange.
Returns or exchanges will be subject to a 15% restocking fee of the original item purchased plus cost of return shipping and replacement shipping.
Exchanges due to shipping errors by Lone Star Auto Parts will not be subject to a restocking fee or shipping charges.
FEEDBACK
We strive for 100% customer satisfaction! FEEDBACK IS VERY IMPORTANT TO US.
We request that you contact us immediately BEFORE you give us neutral or negative feedback, so that we can satisfactorily address your concerns.
ABOUT US
Lone Star Auto Pars INC. has committed itself to providing state-of-the-art produtcst and delivering the best services.
Lone Star Auto Pars INC. is specialized in designing and producing the Wheel hub bearings, Clutchs, Tensioners and Timing Chain Kits.
---
On Jul-30-19 at 01:27:32 PDT, seller added the following information:
Restocking Fee: No
Returns Accepted: Returns Accepted
Item must be returned within: 30 Days
Refund will be given as: Money Back
Return shipping will be paid by: Seller
Brand: LO-STAR
Manufacturer Part Number: LSPD1241
Interchange Part Number: C2C 027290 / C2C027290, 8358D1241, T1732,
Warranty: 6 Month
UPC: Does not apply
UPC: Does Not Apply
SKU: LSPD1241
Front Ceramic Brake Pad Set Fits Jaguar S-Type Vanden Plas XF XJ8 XK 355013621 fits on the following vehicles. This is for your reference only, please check your auto manual to make sure it fits.
YEAR
MAKE
MODEL
TRIM
NOTES
2015
Jaguar
XF
Premium Sedan 4-Door 2.0L 1999CC 122Cu. In. l4 GAS DOHC Turbocharged
-, Front, OEM - OE Formulated Friction Material prepared for wear indicator
2013
Jaguar
XF
Base Sedan 4-Door 2.0L 1999CC 122Cu. In. l4 GAS DOHC Turbocharged
S, Front, OEM - OE Formulated Friction Material prepared for wear indicator
2010
Jaguar
XF
Base Sedan 4-Door 4.2L 4196CC 256Cu. In. V8 GAS DOHC Naturally Aspirated
Front, OEM - OE Formulated Friction Material prepared for wear indicator
2010
Jaguar
XF
Base Sedan 4-Door 4.2L 4196CC 256Cu. In. V8 GAS DOHC Naturally Aspirated
-, Front, OEM - OE Formulated Friction Material prepared for wear indicator
2009
Jaguar
Vanden Plas
Base Sedan 4-Door 4.2L 4196CC 256Cu. In. V8 GAS DOHC Naturally Aspirated
Front, OEM - OE Formulated Friction Material prepared for wear indicator
2009
Jaguar
Vanden Plas
Base Sedan 4-Door 4.2L 4196CC 256Cu. In. V8 GAS DOHC Naturally Aspirated
-, Front, OEM - OE Formulated Friction Material prepared for wear indicator
2009
Jaguar
Vanden Plas
Base Sedan 4-Door 4.2L 4196CC 256Cu. In. V8 GAS DOHC Supercharged
Front, OEM - OE Formulated Friction Material prepared for wear indicator
2009
Jaguar
Vanden Plas
Base Sedan 4-Door 4.2L 4196CC 256Cu. In. V8 GAS DOHC Supercharged
-, Front, OEM - OE Formulated Friction Material prepared for wear indicator
2009
Jaguar
XF
Luxury Sedan 4-Door 4.2L 4196CC 256Cu. In. V8 GAS DOHC Naturally Aspirated
Front, OEM - OE Formulated Friction Material prepared for wear indicator
2009
Jaguar
XF
Luxury Sedan 4-Door 4.2L 4196CC 256Cu. In. V8 GAS DOHC Naturally Aspirated
-, Front, OEM - OE Formulated Friction Material prepared for wear indicator
2009
Jaguar
XF
Premium Luxury Sedan 4-Door 4.2L 4196CC 256Cu. In. V8 GAS DOHC Naturally Aspirated
Front, OEM - OE Formulated Friction Material prepared for wear indicator
2009
Jaguar
XF
Premium Luxury Sedan 4-Door 4.2L 4196CC 256Cu. In. V8 GAS DOHC Naturally Aspirated
-, Front, OEM - OE Formulated Friction Material prepared for wear indicator
2009
Jaguar
XJ8
Base Sedan 4-Door 4.2L 4196CC 256Cu. In. V8 GAS DOHC Naturally Aspirated
-, Front, OEM - OE Formulated Friction Material prepared for wear indicator
2009
Jaguar
XJ8
Base Sedan 4-Door 4.2L 4196CC 256Cu. In. V8 GAS DOHC Naturally Aspirated
Front, OEM - OE Formulated Friction Material prepared for wear indicator
2009
Jaguar
XJ8
L Sedan 4-Door 4.2L 4196CC 256Cu. In. V8 GAS DOHC Naturally Aspirated
-, Front, OEM - OE Formulated Friction Material prepared for wear indicator
2009
Jaguar
XJ8
L Sedan 4-Door 4.2L 4196CC 256Cu. In. V8 GAS DOHC Naturally Aspirated
Front, OEM - OE Formulated Friction Material prepared for wear indicator
2009
Jaguar
XK
Base Convertible 2-Door 4.2L 4196CC 256Cu. In. V8 GAS DOHC Naturally Aspirated
Front, OEM - OE Formulated Friction Material prepared for wear indicator
2009
Jaguar
XK
Base Convertible 2-Door 4.2L 4196CC 256Cu. In. V8 GAS DOHC Naturally Aspirated
-, Front, OEM - OE Formulated Friction Material prepared for wear indicator
2009
Jaguar
XK
Base Coupe 2-Door 4.2L 4196CC 256Cu. In. V8 GAS DOHC Naturally Aspirated
Front, OEM - OE Formulated Friction Material prepared for wear indicator
2009
Jaguar
XK
Base Coupe 2-Door 4.2L 4196CC 256Cu. In. V8 GAS DOHC Naturally Aspirated
-, Front, OEM - OE Formulated Friction Material prepared for wear indicator
2008
Jaguar
S-Type
Base Sedan 4-Door 3.0L 2968CC 181Cu. In. V6 GAS DOHC Naturally Aspirated
Front, OEM - OE Formulated Friction Material prepared for wear indicator
2008
Jaguar
S-Type
Base Sedan 4-Door 3.0L 2968CC 181Cu. In. V6 GAS DOHC Naturally Aspirated
-, Front, OEM - OE Formulated Friction Material prepared for wear indicator
2008
Jaguar
S-Type
Base Sedan 4-Door 4.2L 4196CC 256Cu. In. V8 GAS DOHC Naturally Aspirated
Front, OEM - OE Formulated Friction Material prepared for wear indicator
2008
Jaguar
S-Type
Base Sedan 4-Door 4.2L 4196CC 256Cu. In. V8 GAS DOHC Naturally Aspirated
-, Front, OEM - OE Formulated Friction Material prepared for wear indicator
2008
Jaguar
Vanden Plas
Base Sedan 4-Door 4.2L 4196CC 256Cu. In. V8 GAS DOHC Naturally Aspirated
Front, OEM - OE Formulated Friction Material prepared for wear indicator
2008
Jaguar
Vanden Plas
Base Sedan 4-Door 4.2L 4196CC 256Cu. In. V8 GAS DOHC Naturally Aspirated
-, Front, OEM - OE Formulated Friction Material prepared for wear indicator
2008
Jaguar
Vanden Plas
Base Sedan 4-Door 4.2L 4196CC 256Cu. In. V8 GAS DOHC Supercharged
Front, OEM - OE Formulated Friction Material prepared for wear indicator
2008
Jaguar
Vanden Plas
Base Sedan 4-Door 4.2L 4196CC 256Cu. In. V8 GAS DOHC Supercharged
-, Front, OEM - OE Formulated Friction Material prepared for wear indicator
2008
Jaguar
XJ8
Base Sedan 4-Door 4.2L 4196CC 256Cu. In. V8 GAS DOHC Naturally Aspirated
-, Front, OEM - OE Formulated Friction Material prepared for wear indicator
2008
Jaguar
XJ8
Base Sedan 4-Door 4.2L 4196CC 256Cu. In. V8 GAS DOHC Naturally Aspirated
Front, OEM - OE Formulated Friction Material prepared for wear indicator
2008
Jaguar
XJ8
L Sedan 4-Door 4.2L 4196CC 256Cu. In. V8 GAS DOHC Naturally Aspirated
-, Front, OEM - OE Formulated Friction Material prepared for wear indicator
2008
Jaguar
XJ8
L Sedan 4-Door 4.2L 4196CC 256Cu. In. V8 GAS DOHC Naturally Aspirated
Front, OEM - OE Formulated Friction Material prepared for wear indicator
2008
Jaguar
XK
Base Convertible 2-Door 4.2L 4196CC 256Cu. In. V8 GAS DOHC Naturally Aspirated
Front, OEM - OE Formulated Friction Material prepared for wear indicator
2008
Jaguar
XK
Base Convertible 2-Door 4.2L 4196CC 256Cu. In. V8 GAS DOHC Naturally Aspirated
-, Front, OEM - OE Formulated Friction Material prepared for wear indicator
2008
Jaguar
XK
Base Coupe 2-Door 4.2L 4196CC 256Cu. In. V8 GAS DOHC Naturally Aspirated
Front, OEM - OE Formulated Friction Material prepared for wear indicator
2008
Jaguar
XK
Base Coupe 2-Door 4.2L 4196CC 256Cu. In. V8 GAS DOHC Naturally Aspirated
-, Front, OEM - OE Formulated Friction Material prepared for wear indicator
2007
Jaguar
S-Type
Base Sedan 4-Door 3.0L 2968CC 181Cu. In. V6 GAS DOHC Naturally Aspirated
-, Front, OEM - OE Formulated Friction Material prepared for wear indicator
2007
Jaguar
S-Type
Base Sedan 4-Door 3.0L 2968CC 181Cu. In. V6 GAS DOHC Naturally Aspirated
Front, OEM - OE Formulated Friction Material prepared for wear indicator
2007
Jaguar
S-Type
Base Sedan 4-Door 4.2L 4196CC 256Cu. In. V8 GAS DOHC Naturally Aspirated
Front, OEM - OE Formulated Friction Material prepared for wear indicator
2007
Jaguar
S-Type
Base Sedan 4-Door 4.2L 4196CC 256Cu. In. V8 GAS DOHC Naturally Aspirated
-, Front, OEM - OE Formulated Friction Material prepared for wear indicator
2007
Jaguar
Vanden Plas
Base Sedan 4-Door 4.2L 4196CC 256Cu. In. V8 GAS DOHC Naturally Aspirated
Front, OEM - OE Formulated Friction Material prepared for wear indicator
2007
Jaguar
Vanden Plas
Base Sedan 4-Door 4.2L 4196CC 256Cu. In. V8 GAS DOHC Naturally Aspirated
-, Front, OEM - OE Formulated Friction Material prepared for wear indicator
2007
Jaguar
Vanden Plas
Base Sedan 4-Door 4.2L 4196CC 256Cu. In. V8 GAS DOHC Supercharged
Front, OEM - OE Formulated Friction Material prepared for wear indicator
2007
Jaguar
Vanden Plas
Base Sedan 4-Door 4.2L 4196CC 256Cu. In. V8 GAS DOHC Supercharged
-, Front, OEM - OE Formulated Friction Material prepared for wear indicator
2007
Jaguar
XJ8
Base Sedan 4-Door 4.2L 4196CC 256Cu. In. V8 GAS DOHC Naturally Aspirated
-, Front, OEM - OE Formulated Friction Material prepared for wear indicator
2007
Jaguar
XJ8
Base Sedan 4-Door 4.2L 4196CC 256Cu. In. V8 GAS DOHC Naturally Aspirated
Front, OEM - OE Formulated Friction Material prepared for wear indicator
2007
Jaguar
XJ8
L Sedan 4-Door 4.2L 4196CC 256Cu. In. V8 GAS DOHC Naturally Aspirated
-, Front, OEM - OE Formulated Friction Material prepared for wear indicator
2007
Jaguar
XJ8
L Sedan 4-Door 4.2L 4196CC 256Cu. In. V8 GAS DOHC Naturally Aspirated
Front, OEM - OE Formulated Friction Material prepared for wear indicator
2007
Jaguar
XK
Base Convertible 2-Door 4.2L 4196CC 256Cu. In. V8 GAS DOHC Naturally Aspirated
Front, OEM - OE Formulated Friction Material prepared for wear indicator
2007
Jaguar
XK
Base Convertible 2-Door 4.2L 4196CC 256Cu. In. V8 GAS DOHC Naturally Aspirated
-, Front, OEM - OE Formulated Friction Material prepared for wear indicator
2007
Jaguar
XK
Base Coupe 2-Door 4.2L 4196CC 256Cu. In. V8 GAS DOHC Naturally Aspirated
Front, OEM - OE Formulated Friction Material prepared for wear indicator
2007
Jaguar
XK
Base Coupe 2-Door 4.2L 4196CC 256Cu. In. V8 GAS DOHC Naturally Aspirated
-, Front, OEM - OE Formulated Friction Material prepared for wear indicator
2006
Jaguar
S-Type
Base Sedan 4-Door 3.0L 2968CC 181Cu. In. V6 GAS DOHC Naturally Aspirated
-, Front, OEM - OE Formulated Friction Material prepared for wear indicator
2006
Jaguar
S-Type
Base Sedan 4-Door 3.0L 2968CC 181Cu. In. V6 GAS DOHC Naturally Aspirated
Front, OEM - OE Formulated Friction Material prepared for wear indicator
2006
Jaguar
S-Type
Base Sedan 4-Door 4.2L 4196CC 256Cu. In. V8 GAS DOHC Naturally Aspirated
Front, OEM - OE Formulated Friction Material prepared for wear indicator
2006
Jaguar
S-Type
Base Sedan 4-Door 4.2L 4196CC 256Cu. In. V8 GAS DOHC Naturally Aspirated
-, Front, OEM - OE Formulated Friction Material prepared for wear indicator
2006
Jaguar
S-Type
VDP Edition Sedan 4-Door 4.2L 4196CC 256Cu. In. V8 GAS DOHC Naturally Aspirated
Front, OEM - OE Formulated Friction Material prepared for wear indicator
2006
Jaguar
S-Type
VDP Edition Sedan 4-Door 4.2L 4196CC 256Cu. In. V8 GAS DOHC Naturally Aspirated
-, Front, OEM - OE Formulated Friction Material prepared for wear indicator
2006
Jaguar
Vanden Plas
Base Sedan 4-Door 4.2L 4196CC 256Cu. In. V8 GAS DOHC Naturally Aspirated
Front, OEM - OE Formulated Friction Material prepared for wear indicator
2006
Jaguar
Vanden Plas
Base Sedan 4-Door 4.2L 4196CC 256Cu. In. V8 GAS DOHC Naturally Aspirated
-, Front, OEM - OE Formulated Friction Material prepared for wear indicator
2006
Jaguar
Vanden Plas
Base Sedan 4-Door 4.2L 4196CC 256Cu. In. V8 GAS DOHC Supercharged
Front, OEM - OE Formulated Friction Material prepared for wear indicator
2006
Jaguar
Vanden Plas
Base Sedan 4-Door 4.2L 4196CC 256Cu. In. V8 GAS DOHC Supercharged
-, Front, OEM - OE Formulated Friction Material prepared for wear indicator
2006
Jaguar
XJ8
Base Sedan 4-Door 4.2L 4196CC 256Cu. In. V8 GAS DOHC Naturally Aspirated
-, Front, OEM - OE Formulated Friction Material prepared for wear indicator
2006
Jaguar
XJ8
Base Sedan 4-Door 4.2L 4196CC 256Cu. In. V8 GAS DOHC Naturally Aspirated
Front, OEM - OE Formulated Friction Material prepared for wear indicator
2006
Jaguar
XJ8
L Sedan 4-Door 4.2L 4196CC 256Cu. In. V8 GAS DOHC Naturally Aspirated
-, Front, OEM - OE Formulated Friction Material prepared for wear indicator
2006
Jaguar
XJ8
L Sedan 4-Door 4.2L 4196CC 256Cu. In. V8 GAS DOHC Naturally Aspirated
Front, OEM - OE Formulated Friction Material prepared for wear indicator
2005
Jaguar
Vanden Plas
Base Sedan 4-Door 4.2L 4196CC 256Cu. In. V8 GAS DOHC Naturally Aspirated
Front, OEM - OE Formulated Friction Material prepared for wear indicator From Chassis/VIN G49701
2005
Jaguar
Vanden Plas
Base Sedan 4-Door 4.2L 4196CC 256Cu. In. V8 GAS DOHC Naturally Aspirated
-, Front, OEM - OE Formulated Friction Material prepared for wear indicator From Chassis/VIN G49701
2005
Jaguar
XJ8
Base Sedan 4-Door 4.2L 4196CC 256Cu. In. V8 GAS DOHC Naturally Aspirated
-, Front, OEM - OE Formulated Friction Material prepared for wear indicator From Chassis/VIN G49701
2005
Jaguar
XJ8
Base Sedan 4-Door 4.2L 4196CC 256Cu. In. V8 GAS DOHC Naturally Aspirated
Front, OEM - OE Formulated Friction Material prepared for wear indicator From Chassis/VIN G49701
2005
Jaguar
XJ8
L Sedan 4-Door 4.2L 4196CC 256Cu. In. V8 GAS DOHC Naturally Aspirated
-, Front, OEM - OE Formulated Friction Material prepared for wear indicator From Chassis/VIN G49701
2005
Jaguar
XJ8
L Sedan 4-Door 4.2L 4196CC 256Cu. In. V8 GAS DOHC Naturally Aspirated
Front, OEM - OE Formulated Friction Material prepared for wear indicator From Chassis/VIN G49701